Brazilian Regulations – Changes to Temperature and Humidity Requirements
Preparation for new stringent requirements
Life Sciences

Most pharmaceutical companies that have ever shipped and/or distributed products within Brazil know that the Brazilian Good Distribution Practices and Import regulations from ANVISA, the Brazilian Health Authority, are among the strictest in the world. As of March 16, 2021, the rules established by RDC 430/2020, published by ANVISA, the Brazilian Health Authority, in October 2020, came into force. The Resolution provides for Good Practices for the Distribution, Storage and Transport of Medicines, revoking RDC 304/2019 and RDC 360/2020 and restoring Ordinance No. 802/1998 and RDC No. 320/2002. In practice, the technical aspects of RDC 304 and RDC 360 have not been modified or canceled, but unified by the new standard. Temperature and humidity monitoring will become mandatory on March 17, 2022, making it necessary to start preparing now.
RDC 430 was published with the aim to create greater controls in the drug manufacturing process. This in turn would ensure improved drug quality during the stages of distribution, storage, handling and transportation. The main changes proposed by ANVISA, include requirements for:
Implementation of a Quality Management System
Expansion of principles for good distribution practices for distributors and carriers
Additional new and very clear requirements for including humidity in the various risk assessments and environmental monitoring required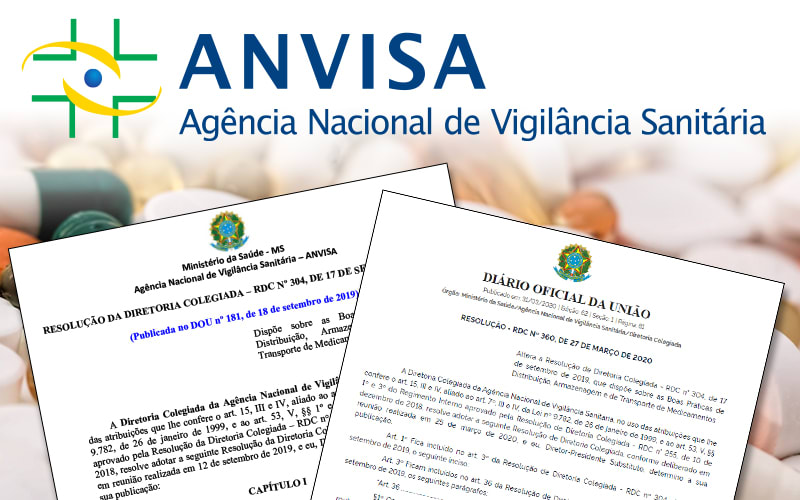 RDC 430 published on October 8, 2020 clarifies the implementation period and extends the length of time for the condition monitoring rule with an exemption for transportation if the shipment is under a certain number of hours. Originally, the regulation stated that monitoring was required for in-transit shipments greater than four (4) hours. Now, that time is extended to require monitoring for shipments greater than of eight (8) hours in length. This change is under very strict documented conditions, based on a documented preliminary risk assessment and the use of qualified shippers).
Examples of the New Requirements
Article 43
The storage areas must be equipped with equipment and instruments necessary to control and monitor the required temperature and humidity.
Monitoring shall be performed by instruments positioned in accordance with the thermal qualification study of the area.
The reading of the instruments, if performed intermittently, shall correspond to the periods of greatest criticality.
Monitoring shall be recorded, and records shall be kept for at least two years after its generation.
The instruments must be calibrated before their first use and at defined intervals and justified by the instrument performance and measurement sensitivity"
Article 64
The obligations of the companies that carry the transportation of medicines are:
have the cargo manifest with the forecast of disembarkation on board the transport vehicle;
monitor transport conditions related to temperature specifications, conditioning, storage and moisture of the medicine using calibrated instruments;
apply the passive or active temperature and humidity control systems that are necessary to maintain the conditions required by the health record or other specifications applicable;
provide the contractor with all data relating to the conservation conditions during the transport, as well as during storage in transit;
provide restricted access to medicines; and
receiving and delivering medicines only to duly authorized companies and licensed for related activities.
The control provided for in item III can be eliminated when using conditions of qualified transport for the route.
The mandatory monitoring of temperature and humidity provided for in item II may be exempted when the maximum transport time is proven in the records to be less than 8 (eight) hours*, this is done at the final point of dispensing the medicine and packaging is used thermal plants with qualification consistent with the time and conditions of transport.
Article 84
The monitoring and control of the temperature during storage and transportation must be carried out.
It is important to understand that in Article 84 is focused on equipment and storage areas used for the explicit storage and transportation of medicines should be qualified/validated prior to use and the results of these risk assessments should identify the weaker points. In order to capture the worst case scenarios these weak points are the locations where the measuring instruments should be placed.
Monitoring Humidity
There are only a few countries in the world (Brazil, South Africa, and Saudi Arabia) that explicitly mention or require monitoring of humidity. In the case of Brazil, companies will have to prove and document that humidity (in addition to temperature) does not have any impact on product quality or integrity by conducting risk assessments such as Lane, Packaging, and Storage Area Qualifications , even for products that in principle should not be affected by it, such as Controlled Room Temperature products.
Implementation with a Sense of Urgency
The implementation time of 18 months started from the original publication date, which means that monitoring of temperature and humidity will become mandatory on March 17, 2021. With less than a year away, now would be a good time to begin to start thinking about risk assessments, which should be done based on more extreme conditions in the summer and the winter. Consequently, it is important to plan to be able to meet the regulatory requirements and start early.
Sensitech Inc., with its extensive datalogger portfolio helping companies to monitor temperature and humidity, has also assisted many companies to understand what type of product protection is needed by lane and season to meet regulatory requirements with deep professional services expertise. To learn more about these new Brazilian regulatory changes and how they may affect your supply chain compliance, contact one of our Sensitech experts today.