Biologic Medications and the Specialty Pharma, Part 2
Life Sciences

This blog is the second in a series of three that discusses the challenges, risks and best practices for maintaining proper product temperatures for biologic medications in the specialty pharmacy. This blog focuses on how the risks associated with temperature excursions are often underestimated, and how a lack of understanding of their full ramifications can lead to compromised products.
Temperature Excursion Risks in the Shipment of Biologics
A group of pharmacists in the United States asked Sensitech® to conduct a temperature monitoring study, as they wanted to understand the extent and significance of temperature excursions when biologic products were shipped from their pharmacies to patients.
A key goal of this study was to understand if and how the internal temperatures of the packages were affected by the frozen gel packs that are typically used to keep the products at an optimal temperature. The study also explored how exterior temperatures during the shipping cycle affected the packages. Additionally, a goal of the study was to identify correct distribution processes for couriers, overnight priority, same day and ground shipments.
The research project included these initiatives:
Samplings of internal and external temperatures of packages
Summer and winter monitoring to represent hot and cold profiles
Ambient temperature profiles from exterior temperature data for pack-out design
The results of the study were surprising, as it showed that 80% of the pharmacies' direct-to-patient (DtP) shipments failed to maintain proper temperatures throughout the shipping cycle. The study indicated that the pharmacists were unaware they were improperly using frozen gel packs, and that positioning them in direct contact with the biologic's packaging during shipping would cause temperature excursions. These improper procedures often caused thermal shock, dropping the temperature of products to below -5°C, which is a major excursion outside of the manufacturer's stated label temperature requirements for product efficacy.
The impact of the improper use of gel packs
The pharmacists also increased the risk of the thermal shock of the drugs when they placed the thermal packaging containers with the products inside in refrigerators prior to the carrier pickups. As seen in Figure 1 below, this accelerated the drops in the internal temperatures of the packages and added compromising risk to the efficacy of the products.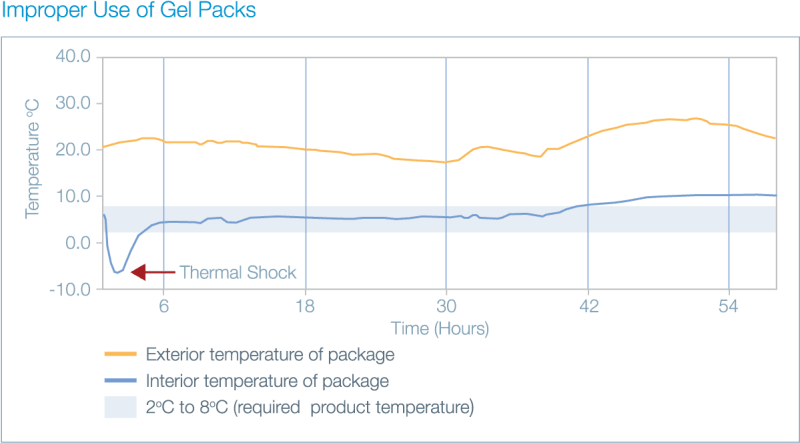 Figure 1. Example of thermal shock based on the improper positioning of a gel pack.
Temperature excursions like these, with overexposure to heat or cold during storage or shipping, can degrade or inactivate temperature-sensitive drugs, adulterating their efficacy and endangering patients with issues such as harmful drug interactions or failed therapies.
One single temperature excursion—or even a simple change in temperature—is all it takes to compromise a product's stability and destroy a complete supply of a biologic product. In addition to the aforementioned conditions, the following factors could also easily create a compromising situation for a biologic within a specialty pharmacy:
Extreme temperature variations in the everyday storage and handling of products in a pharmacy's facility
The age and quality of refrigeration equipment
The lack of standard operating procedures for the proper handling of the medicines
Temperature fluctuations from refrigerator defrost cycles, or the opening and closing of refrigerator doors (see Figures 2 and 3 below).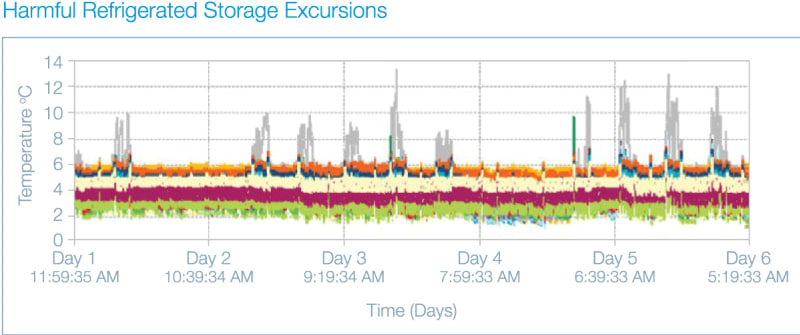 Figure 2. Open doors in a refrigerated storage area for excessive amounts of time can cause harmful temperature excursions like the ones shown here. Each color represents a different packaged product with its own unique monitor. Any products with temperatures above 8°C or below 2°C have been exposed to temperature excursions that could cause product damage.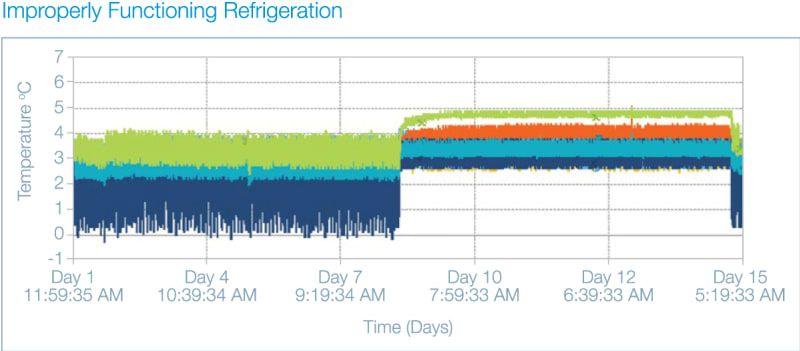 Figure 3. This refrigerated storage area was not functioning properly during the first seven days of this study, which caused temperature excursions and product risk. Each color represents a different packaged product with its own unique monitor. Any products with temperatures above 8°C or below 2°C have been exposed to temperature excursions that could cause product damage.
The costs of non-compliance
Medication mishandling can result in costly errors and risks to patients, along with high fines for pharmacies. For instance, a quick look at pharmacy malpractice statistics offers these insights:
The costs associated with medication errors can exceed $29 billion annually and even reach up to $72 billion a year.
Reportedly, over one million people are injured and nearly 100,000 people die each year due to medication errors.
How much of the above errors relate to the storage, handling and distribution of temperature-sensitive drugs like biologics is unknown, but these drugs are high-cost, high-touch medications with annual per-patient treatment costs that can exceed $100,000. A single shipment of such a product could have a value of $50 million or more.
If the temperature excursion of a biologic is recognized to cause a degraded state, the cost to replace it could be two to three times the initial expense of the product. Expenditures such as reverse logistics for disposal, remanufacturing, quality investigation and repair of brand loyalty and reputation all can be quite costly. If a pharmacy needs to replace a single shipment of a $100,000 product, or worse, shipments to multiple patients due to a temperature excursion—there would be grave and dire consequences for its business.
Consequently, it is in the best interest of both pharmacies as a business, and pharmacists and technicians as individuals, to understand the best way to execute temperature management compliance.
Did you miss the first part of the series? Click here: Biologic Medications and the Specialty Pharma, Part 1. Don't miss Part 3!