Russian Good Distribution Practices Pharmaceutical Regulations, Part 1
How to Prepare Your Supply Chain
Life Sciences

This four part Russian regulations blog series gives an overview of the Russian "Rules for Proper Storage and Transportation of Medicines" published in 2016 to safeguard medicines shipped into and within Russia. The Russian regulations became effective on March 1, 2017. Russia continues to be an important market for pharmaceutical manufacturers. It is important to understand what is needed to sell into Russia from a regulatory perspective. These regulations were guided by the EU Good Distribution Practice (GDP) guidelines (2013) with similar content including chapters on a Quality Management System, Documentation, Equipment, Training, Storage, Transportation, Qualification, Outsourcing, and more. These Russian Federation regulations are regulated under the Ministry of Health and apply to medicinal companies within Russian intra-country distribution but also apply to pharmaceutical companies, distributors, wholesalers and their outsourcing partners that export into Russia.
The objective of this regulation is to bring Russia more in line with other international guidelines such as the Pharmaceutical Inspection Co-operation Scheme (PIC/S) guidelines on which they are based, US Pharmacopeia <1079> (learn more about revisions being published this year in the Sensitech blog series USP <1079> Changes You Need to Know) and the WHO Annex 9.
Just like in other regions, the Good Manufacturing Practices (GMP) principles are now extended to Good Distribution Practices with Quality by Design as its main principle, along with the goal of achieving better product integrity and patient safety through proper end-to-end in-transit, handling and storage of medicines. Additional goals of continuous process improvement and cost reduction/containment are also provided.
There is a strong focus on risk management, control and mitigation. Several risk assessments are required such as qualification/mapping of storage and transportation equipment, however, with stricter language than in other international guidance documents, using language such as "must" vs. "should."
The following image illustrates the key pillars of the Russian regulations.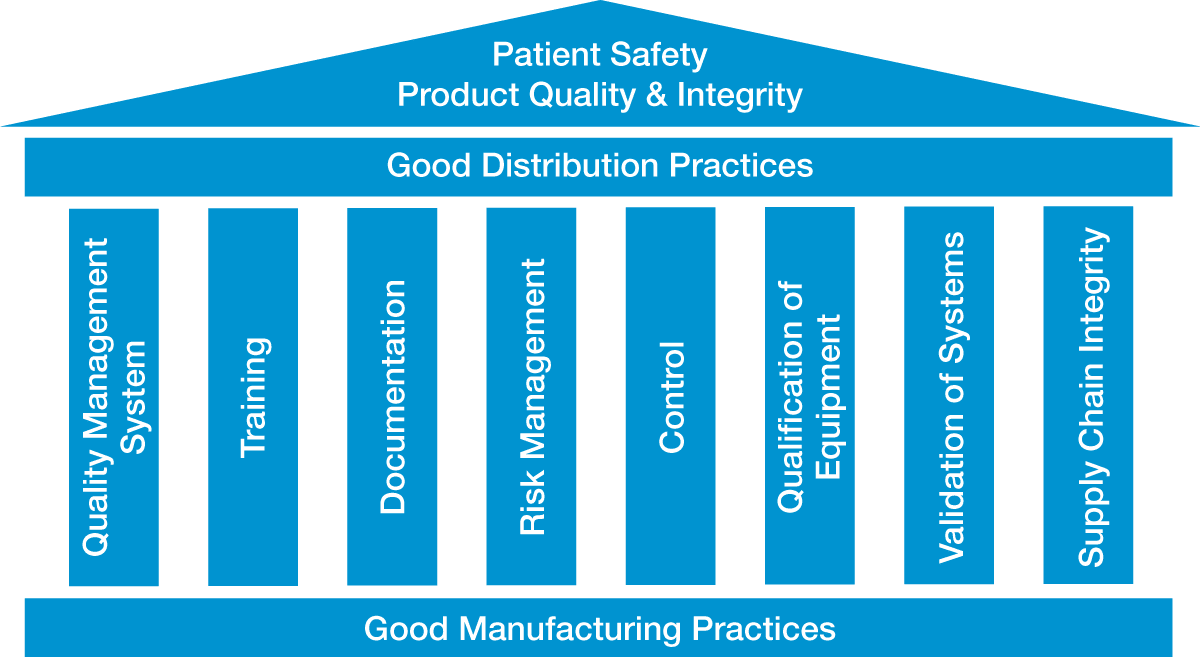 Russian Good Distribution Practices Definitions:
Quality Management Systems (QMS): a series of standard operating procedures, documentation, reviews should be put into place to guarantee product quality. To the extent the QMS should be proportional to the complexity of the supply chain and the requisite risks.
Training: all parties involved in the storage and distribution of medicinal products should be properly trained on the GMP and GDP requirements.
Documentation: risk assessments, training, monitoring records, standard operating procedures, service level agreements, and contracts are concrete examples of what should be documented. This list could be easily expanded, but the main idea is that documentation provides proof of risk management, mitigation and control.
Risk Management: the complexity of the supply chain inclusive of all of the capabilities and legitimacy of all actors should be mapped and analyzed to identify potential risks to product quality, product integrity and patient safety. Measures should consequently be put into place and regularly reviewed to mitigate and control the risks wherever possible.
Qualification of Equipment: all equipment used in the storage and distribution of pharmaceutical products should be fit for use and the qualification represents the documented risk assessment.
Validation of Systems: IT/electronic/manufacturing systems have to perform as expected when run within normal operations. The validation should follow a predefined protocol and be documented.
Supply Chain Integrity: suppliers and customers should be qualified as suitable Supply Chain partners to mitigate the product quality and integrity risks. Audits should be conducted and documented.
Now that we have defined the Russian regulatory terms most important to Good Distribution Practices and understand why these regulations are important, we will continue the series with a deeper focus on:
Storage requirements including thermal mapping studies and ongoing monitoring of storage facilities.
An in-depth review of in-transit requirements including lane risk assessments, trailer mappings, and ongoing temperature monitoring.
What is calibration and why is it required for in-transit and storage temperature monitoring?
Click here for part 2: "Requirements for Pharmaceutical Storage and How to be Compliant"
For questions about the Russian "Rules for Proper Storage and Transportation of Medicines" or information about Sensitech's thermal mapping studies, contact us.