A Brief History of Sensitech: Cold Chain Monitoring 3.0
Global Expansion Creates New Opportunities and Challenges
Corporate | Food | Life Sciences

On June 22, 2020, Sensitech® will celebrate its 30-year anniversary as a leading provider of supply chain visibility solutions. Sensitech has relied on the talent of many individuals to reach this milestone — experts in cold chain, supply chain logistics, software, hardware and industrial engineers, alongside people with experience and creativity to deliver real value to our customers. It's thanks to these hard-working and dedicated folks that have gotten us here today from the very beginning of the cold chain.
We are pleased to present part three of a three-part series on the history of cold chain monitoring through the eyes of our guest author and Sensitech former CEO, Eric Schultz. This series will chronicle the history of cold chain and Sensitech's vital role as a growing, innovative industry leader.
In the summer of 2006, Carrier acquired Sensitech. With 45,000 employees, a network of distributors and dealers spanning 172 countries, manufacturing facilities around the world, and deep roots in the commercial and transport refrigeration sector, Carrier provided Sensitech the reach that would allow its monitoring solutions to meet the growing needs of the worldwide cold chain.1
By 2012, Sensitech served 7,500 global food suppliers, 150 of the world's largest food service companies and supermarkets, and the largest pharmaceutical and biotech companies in the world. In the summer of that year, Sensitech acquired FreightWatch International, a logistics security provider with leading-edge tracking technology and some 200 customers in electronics, life sciences, tobacco and alcohol, and luxury goods. 2
ColdStream® Select end-to-end global risk management cloud solution
"Between Carrier, FreightWatch, and a series of acquisitions, we were able to establish a true global footprint," said Steve DiRubio, chief operating officer, Sensitech. "We went direct in China and India, and our activities in Europe grew in size and scope to rival our traditional business lines in the Americas," he added.
To address the increasing complexity of the cold chain, Sensitech and its customers focused around three strategic responses: visibility beyond temperature, migration to real-time, and the expansion of analytics. No longer did customers define cold chain management as a simple accept-reject decision around a single record and trip.
"We're now talking about good cold chain management, quality risk management, security, transparency, and authenticated chain of custody," said Henry Ames, general manager – life sciences, Sensitech. "The temperature map of each load is still critical, but we've taken a much more holistic view of supply chain integrity."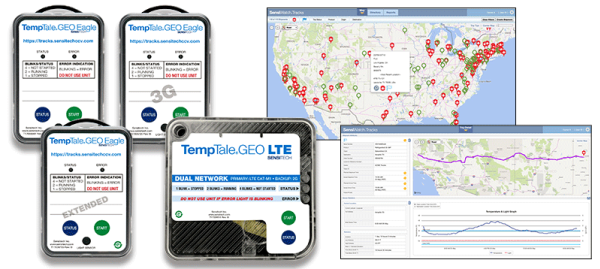 TempTale®GEO LTE and Eagle Family with SensiWatch™ Tracks software
In life sciences, new predictive analytics are helping to optimize packaging and route selection. In the food segment, Sensitech customers can visualize cold chain data critical to supporting continuous improvement. For example, one large produce supplier created cold chain performance metrics that incentivized its transport companies—in some cases leading these vendors to invest in new refrigerated equipment.
"The current COVID-19 crisis has meant an acceleration of trends that already existed," said Marc Beasley, vice president, strategic marketing and business development – food, Sensitech. "I have never seen as much discussion about cold chain visibility from managers in merchandising and logistics," he added. "There is also a surge in home delivery, which requires focus on good cold chain management in the 'last mile.'"
In life sciences, the COVID crisis has meant some disruption of clinical trials along with more direct-to-patient deliveries.
"We also see an industry rapidly shifting from ground and sea transport to air shipments," Ames said. "And, we are all preparing to deliver billions of vaccine doses around the world in 2021."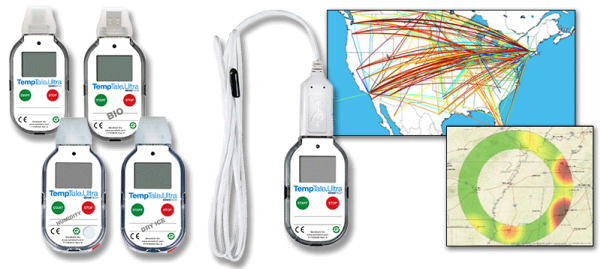 TempTale®Ultra monitor line and sample of Risk Lane Assessment
As Sensitech enters its fourth decade, its original concept of monitoring the temperature of an in-transit bulk product from its source to a distribution center has expanded dramatically.
"Our mission with both food and life science customers is to 'de-risk' their cold chain in ways that focus on their unique challenges," said Mike Hurton, president, Sensitech. "It all begins with the accurate measurement of in-transit temperature, just as it did at our founding in 1990. But, thanks to our superb global team and our relentless emphasis on innovation, we are using new tools—from real-time sensors, the Internet of Things, global information-sharing and rich analytics--to create true cold chain visibility."
Click here if you missed Part One and Part Two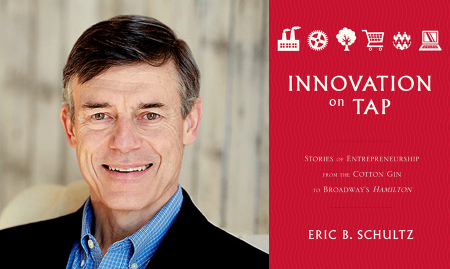 Eric B. Schultz is the former CEO of Sensitech Inc. His most recent book is "Innovation on Tap: Stories of Entrepreneurship from the Cotton Gin to Broadway's Hamilton".


Carrier Corp datasheet, April 2005, Sensitech files.
Lori Hawkins, "Austin-based FreightWatch Sold to Massachusetts Company," Austin American-Statesman, Gannett Co. Inc, Sept. 21, 2012.