SensiGuard® Q2-2019 Report: Pilferage Top Threat in EMEA Thefts
Security

This is the final blog of the four part series where we share a portion of the SensiGuard® Second Quarter Supply Chain Intelligence Center (SCIC) Report highlighting a different region.
The SensiGuard Supply Chain Intelligence Center (SCIC) actively tracks and records cargo theft around the globe, categorizing stolen loads under twelve different product types, and tracking by date, location, Modus Operandi (M.O.), value, and specific product. On a regular basis, we issue security bulletins and cargo theft reports to help companies mitigate risks associated with theft, spoilage, counterfeiting, diversion, pilferage, and other cargo security threats.
On [date of Brazil blog] we posted our findings about net decrease in cargo theft in Brazil in the second quarter. This week we are sharing a few of the second quarter highlights of recent activities for EMEA, with reports from five countries including Russia. You can get the full report and latest updates for EMEA and other parts of the world by visiting the SensiGuard Supply Chain Intelligence Center.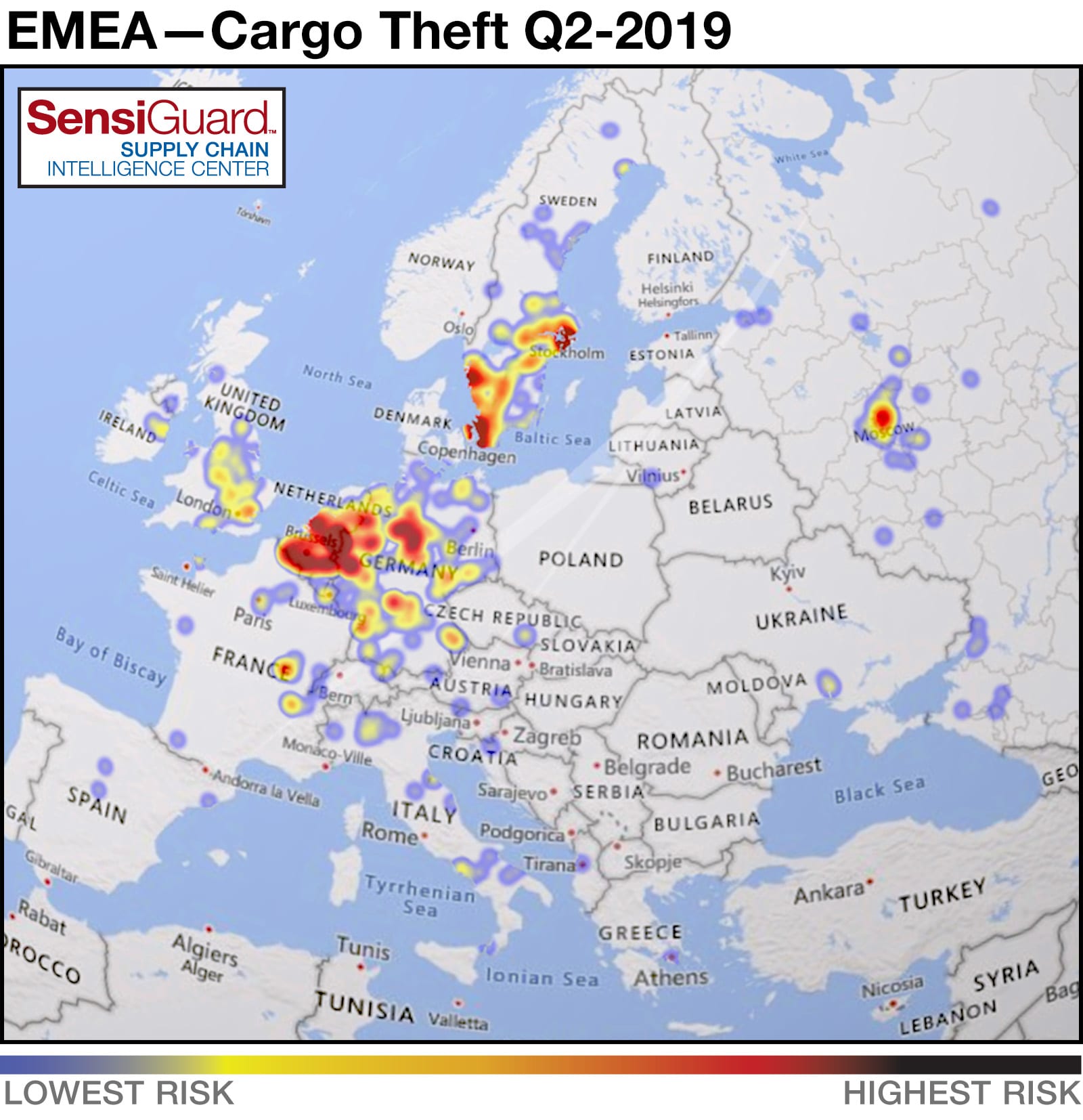 EMEA Highlights
With the M.O.'s of Pilferage and Curtain Slashing being the most used, it is not surprising that Night continues to be the time of day that most recorded incidents occur. In Q2-2019, Night saw 51% of the incidents recorded, with a much smaller portion of 12% during the Day. Not Defined accounted for 37%.
In Q2-2018 it was quite similar with Night in the number one position (53%), followed by Not Defined (36%) and Day (11%).
The opportunistic M.O. of Pilferage accounted for first place on the list in Q2-2019 with 50%, followed by Curtain Slashing (23%) and Vehicle Theft (8%).
The top three of M.O.'s consisted of a similar list in Q2-2018 with Pilferage also in the number one position (47%) and Curtain Slashing in second place (25%). The only slight change on the list was in third place, shared between Theft of Full Truckload and Vehicle Theft (7% each).
Here are the most significant notes in cargo theft from a few of the EMEA reports for April to June 2019:
Germany. Just as in Q1-2019, the product type targeted most in Q2-2019 continues to be Auto & Parts (13%), followed by Building & Industrial (5%), and Electronics, Miscellaneous and Home & Garden (4% each). Attempted Theft accounted for the largest portion with 44% of the quarter's incidents; Unknown Product had 17%.
The Netherlands. Unsecured Parking (92%) continued to have a high percentage of the incidents recorded in Q2-2019, followed by Secure Parking (5%), a location that normally does not feature in the top three. Warehouse/DC (2%) was third on the list.
Russia. This is the first time Russia entered the top five countries, thanks to our new trusted partner RIFT Advisory. The heat map above shows the locations where the SCIC was able to record 66 incidents in Q2-2019. There is a significant difference in the locations where incidents are recorded in Russia versus what is typically seen across the rest of EMEA—in Q2-2019, Company Yard/Premises (54%) was in first place, followed by In-Transit and Warehouse/DC (17% each), and Rail (9%).
Are you looking for cargo theft prevention and tracking solutions?
Learn how our Global Supply Chain Intelligence Team can get historical cargo data at your finger-tips through the SensiGuard Security Dashboard and Sensitech's Analyst-on-Demand service. Contact one of our experts today to help you find anti-theft solutions designed for your specific business needs.
Don't forget to read the first three reports in the series: "Mexico Cargo Theft Threats Continue to Rise", "Food & Drinks Secures U.S. Top Spot in Cargo Theft" and "Brazil Cargo Theft Threats".
Editor's Note: Delays in incident reporting typically cause measurable increases in theft volumes in the weeks following publication of SCIC quarterly reports. As such, totals for the most recent quarter are expected to rise above those recorded thus far. It is SCIC practice to use updated theft numbers for past quarters when comparing them to current three-month totals.