Reducing Loss in the Cold Chain with Real-time Data
Practices and tools to ensure proper product temperatures
Food
Perishable shipments in the supply chain can become temperature-compromised products without a systematic approach to cold chain monitoring and management. Oftentimes, it is only when shipments are severely and obviously damaged that the product will be intercepted and appropriate action taken.
Far too often at this stage, the perishable products are considered a food loss. The Food and Agriculture Organization (FAO) of the United Nations defines food loss to be the decrease in the quantity or quality of food resulting from decisions and actions by food suppliers in the chain.
The FAO has initially estimated that around 14% of the approximate 3.9 billion tonnes of food produced in the world is lost from post-harvest up to, but excluding, the retail level. The FAO further clarifies this loss as "food that is discarded, incinerated or otherwise disposed of along the food supply chain from harvest/slaughter/catch up to, but excluding, the retail level."
When the proper practices and tools are in place in the supply chain, this type of loss can be minimized.
Start with basic cold chain management practices
There are a few basic cold chain management practices that can help reduce temperature variations and preserve the quality of products during transport. Best practices include:
Cooling product properly before loading into a refrigerated transportation unit.
Preparing the trailer properly, assuring it is in good repair and clean, programmed with proper set points and precooled.
Loading the trailer properly, with a pallet height that does not interfere with air chutes and leaves sufficient space for refrigerated air to circulate properly. It's also important to leave space between pallets and the trailer walls and make use of load locks, if necessary.
Maintaining the proper temperature inside the unit during transport.
Following these practices consistently can help ensure proper airflow and allow the refrigeration equipment to perform at its best to help extend product shelf life.
However, in today's world where cold chains are complex and subject to costly disruptions, implementing a temperature monitoring program is one of the best ways to reduce food loss.
Advanced temperature monitoring
An additional safeguard that can be used with the above best cold chain practices is the use of temperature-monitoring devices that can help ensure proper product temperatures are maintained.
Temperature monitoring of food products to improve product quality is not a new practice. In fact, nearly 90 years ago, companies started using strip chart recorders to monitor the temperature of perishable shipments. These analog recorders display the time-temperature history on graph paper, and this information is used for making decisions on individual shipments.
While these devices are still used to monitor a significant number of perishable shipments each year, the technology has evolved quite extensively, and today there are many innovative tools that can further increase product quality.
For instance, the introduction of electronic monitors allows for the capture of temperature data in a format that facilitates the storage, communication and analysis of the data. The early versions of these monitors required manual processes for data transfers and analysis, and were still largely used for decision making on an individual shipment basis.
One of the next major advancements in the market involved innovations in communications technology, which enables transmissions that are more advanced and allows for large volumes of cold chain and related data to be stored and accessed from a centralized repository. Advanced data analysis and visualization tools were also developed, enabling the data to be aggregated and analyzed for process improvement purposes.
Today, communication devices enable real-time decision making while product is in transit. Hands-free connected devices powered by the Internet of Things (IoT) provide a wealth of data on factors such as route, motion, refrigerated unit function and door openings. The aggregation and analysis of this data provides visibility that can help determine root causes associated with trends and patterns in the temperature performance.
As we consider all these advances, it is important to realize that one technology does not completely replace another, and that multiple types of devices can co-exist and add additional value within the monitoring programs of food companies.
The choice of which devices to use depends on many practical factors, including the preferences of customers as to their specific application, budget, availability of infrastructure and receiver choices.
Move from data to insights
Just as the hardware for monitoring temperature has evolved over time, so has the way the data is collected and processed. As indicated above, the industry has gone from looking at single shipments on a strip of paper to the sophisticated analysis of data aggregated from thousands of shipments in real time.
On an individual shipment basis, data can help identify product that has been transported at inadequate temperatures and keep it out of the main-stream system through alerts that signal a temperature problem has occurred.
Sensitech's technology enables temperature and other logistics data to be integrated within a cloud-based data management system. The aggregated data from hundreds or thousands of shipments can then be used to identify trends and patterns. Advanced analytics can be used to identify the root cause of temperature issues and drive the continuous improvement of the cold chain while minimizing the occurrence of problem shipments.
These advanced analytics tools replace the need for looking at temperature graphs individually. They now allow companies to drill down into the data to gain insight and identify specific issues, such as which lanes, routes or locations appear to be contributing the most to the variation in temperature control.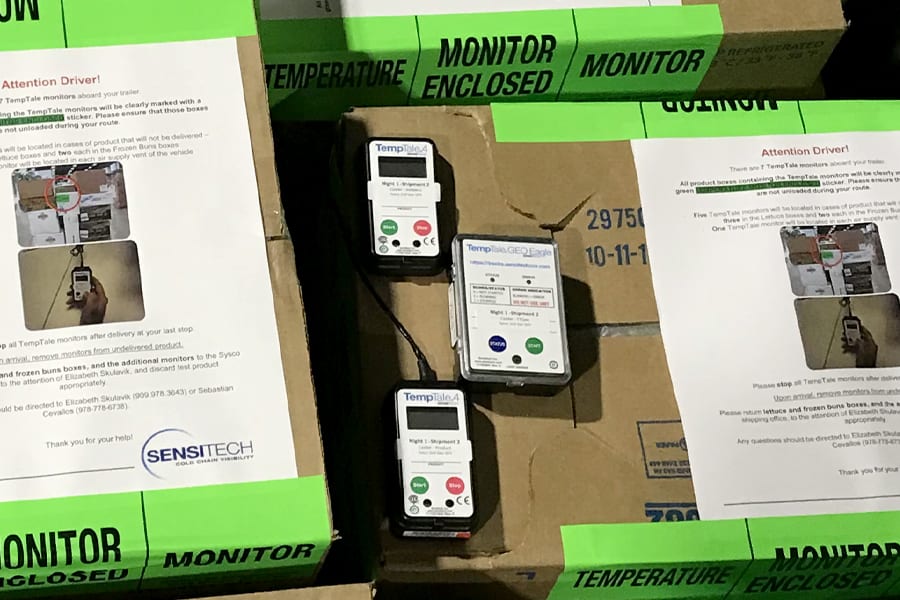 Build a comprehensive cold chain program
For a successful implementation of a cold chain program, Sensitech recommends developing processes and tools that go beyond the simple use of a temperature datalogger. Here are a few critical components:
Monitor provisioning and training. It's important to provision monitors correctly and then train personnel on the proper use and placement, especially when there are numerous suppliers in various countries with different language requirements. Provisioning must also take into consideration seasonality and personnel changes from season to season.
Shipment attributes. Collecting information on suppliers, origin, destination, product, product type and transport company provides the necessary context for analysis when correctly associated with the temperature data. Achieving a high level of consistency in data collection and quality can be a complex issue that requires knowledge and expertise.
Data management and processing. There is a large amount of raw data collected in the cold chain. That data must be analyzed and reported in a concise and accessible manner. Even in the best designed systems, data will be imperfect, and attention must be paid to database maintenance to ensure data quality in order to extract the full value.
Alarm and alert programming. Once data has been collected and pre-processed, a well-designed system should be capable of providing customized alerts and alarm notifications that are tailored to the different stakeholders involved throughout the distribution chain.
Enterprise-wide engagement. A successful cold chain program implementation will require the involvement of other departments such as purchasing and IT. This ensures that the hardware and software components of the system are configured appropriately for the program to run efficiently and maximize the value of the investment.
Drive continuous improvement with Cold Chain Assessments
In addition to the above components for a comprehensive cold chain program, there are situations where deeper analysis is required once a specific area of improvement has been identified. In those cases, Sensitech offers data-driven Cold Chain Assessments with expert insights to provide additional visibility as an extension to the program data analysis.
In particular, through Professional Services fieldwork, Sensitech experts observe and document on-site practices, and provide actionable recommendations for improving the cold chain. Our experts seek to answer inquires such as these for our customers:
Are "wall-loaded" or improperly stacked pallets influencing product temperatures?
Is loading warm product into a container the source of an issue?
Is the equipment correctly programmed and properly maintained?
Are all shippers following the standard operating procedures (SOPs) consistently, and placing the temperature monitors correctly?
Cold Chain Assessments allow Sensitech's field teams to identify the cause of a particular problem. We collaborate with our customers and their partners—including suppliers, distributors and retailers—to train them and develop best practices for improved cold chain performance.
As an example, a retailer may ask us to visit a supplier based on anomalies that show up in the analysis of its temperature program data. While this may be perceived by the supplier as an audit, the assessment is really about providing visibility. In the end, suppliers benefit because they deliver a better quality product, and they start having a dialog with the retailer to drive improvements based on data and first-hand observations by a neutral team of experts.
Working together to reduce food loss
As discussed here, there are many ways a company can help reduce food loss in its cold chain, from simple cold chain management practices to temperature monitoring and expert insights. Collectively, these elements help improve cold chain processes, which in turn drives continuous improvement, reduces loss, and saves time and money.
To learn how to build a continuous improvement program in your cold chain, visit our Professional Services site or contact us here.