A Brief History of Sensitech: Cold Chain Monitoring 1.0
Corporate | Food | Life Sciences

On June 22, 2020, Sensitech® will celebrate its 30-year anniversary as a leading provider of supply chain visibility solutions. Sensitech has relied on the talent of many individuals to reach this milestone — experts in cold chain, supply chain logistics, software, hardware and industrial engineers, alongside people with experience and creativity to deliver real value to our customers. It's thanks to these hard-working and dedicated folks that have gotten us here today from the very beginning of the cold chain.
We are pleased to kick off our celebration with a three-part series on the history of cold chain monitoring through the eyes of our guest author and Sensitech former CEO, Eric Schultz. This series will chronicle the history of cold chain and Sensitech's vital role as a growing, innovative industry leader.
In 1990, New England entrepreneur Sandy Santin founded a venture-backed startup, a combination of sensors and technology that he called Sensitech.
Santin believed that cold chain monitoring—tracking the temperature of food and pharmaceutical shipments as they move around the world—was an industry ripe for disruption. The cost of memory, batteries, and electronic assembly had fallen to the point where a reusable electronic monitor just might prove competitive against the industry's dominant mechanical strip chart recorders.
The king of the cold chain monitoring industry in 1990 was Ryan Instruments. Its founder, Thomas Frank "TF" Ryan, had introduced stripcharts and invented the concept of cold chain monitoring in the 1920s.
After a decade of competition in which the cold chain monitoring industry added new players and size, Sensitech and Ryan joined forces. In 2006, Sensitech was acquired by Carrier Corporation, enhancing its technological capabilities and global presence.
Today, Sensitech offers supply chain visibility services in every major market in the world. But the roots of these sophisticated, global services date back more than a century to a time when eating fresh fruit and vegetables year-round was, for most residents of the U.S., just a dream.
More Than One Orange
Until the Civil War, Americans dined primarily on wheat and beef in the North, corn and pork in the South. Fresh produce was limited by geography and season. "A child who had eaten more than one orange in a whole year," journalist Mark Sullivan added, "was likely to be above the average in economic status and in good luck." 1
In the 1890s, the first attempts were made to ship fresh produce in ice-packed railcars. By World War I, America had 135,000 refrigerated railcars rapidly helping to diversify the national diet.2
One of the Americans responsible for this progress was TF Ryan, who founded a wholesale fruit distributorship in Spokane in 1889. By World War I, Ryan's organization included offices all over the western U.S., an enormous banana plantation in Mexico, and a thriving produce hub in Los Angeles. In 1917, TF Ryan was the most widely known fruit and produce jobber in America.

Ryan Fruit Company Warehouse; Source: ©1927 Charles Libby Collection, Northwest Museum of Arts & Culture, Spokane Washington
In a Class by Itself
Railcars with mechanical refrigeration would not be commercialized until the 1950s. Before that time, the secret to the successful shipment of TF Ryan's produce was ice. Some produce shipments from California to the East Coast required rail workers to re-ice each car as many as nine times from grower to distributor.
Not all railroad employees could be trusted to re-ice Ryan's refrigerated cars, sometimes subjecting the company's perishable cargo to excessive heat for long stretches of its journey.3 In response, in 1919 TF acquired a "thermostat" from inventor Welch Barstow which included a bimetallic coil that would expand and contract with changes in temperature.4 This coil became the "secret sauce" in Ryan and Barstow's strip chart recorder.
The first 970 spring-wound, metal recorders were manufactured in 1923 and began riding in refrigerated cars—likely full of bananas making their way from Mexico to Seattle—to provide accountability for the producer, receiver and railroad.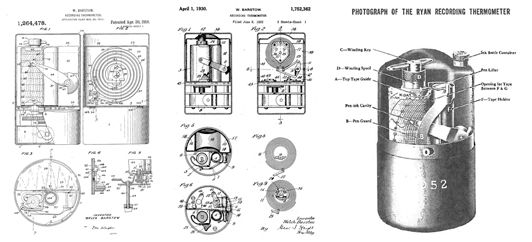 Source: patents.google.com
TF Ryan died in 1942. Five years later, his widow commissioned a study of the recording industry from Booz Allen & Hamilton to determine the prospects of her strip chart company. By then, the Ryan Recording Thermometer Company had two employees, three competitors, 1,470 strip chart recorders, and served customers in frozen foods, perishable fresh foods, flour, cosmetics and film.
Ryan's small, sturdy, reliable product was, Booz Allen wrote, in a class by itself. The consultants also noted that demand for monitoring was expected to increase because, customers told them, "the conditions that brought about the need for recording thermometers in the past will continue to exist, on a more urgent basis, in the future." 5
Little did they know.
Continued in Part Two and Part Three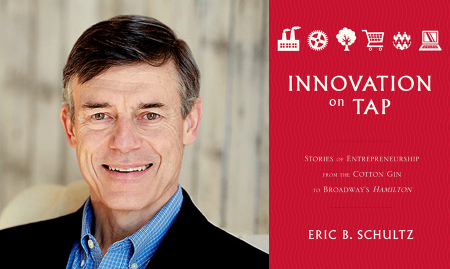 Eric B. Schultz is the former CEO of Sensitech Inc. His most recent book is "Innovation on Tap: Stories of Entrepreneurship from the Cotton Gin to Broadway's Hamilton".


Mark Sullivan, Our Times: The United States 1900-1925, II, America Finding Herself, New York: Charles Scribner's Sons, 1927, 488-489.
Jonathan Rees, Refrigeration Nation,/em> Baltimore: Johns Hopkins, 2013, ebook locations 1878-1973.
Author, personal communication.
"Market Survey for the Ryan Recording Thermometer Company," Booz Allen & Hamilton, November 10, 1947.